4 -day trip from Marrakech to the desert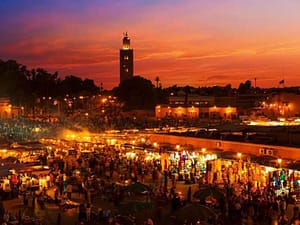 4 -day trip from Marrakech to the desert
4-day tour to Merzouga desert (Erg Chebbi) from Marrakech. We will travel all the most important places in southern Morocco, this route to the desert is the best option for those travelers who want to enjoy and venture with us, to know our most entrenched customs and traditions. And for this, we will travel all the most important places in southern Morocco, entering ourselves in the Sahara to be able to appreciate all its diversity and culture, as well as the existing vegetation and nature. It also includes camel excursion that leads to the jaimas that are in the middle of the dunes where we will spend the night. There we will enjoy a great live music experience, the immensity of the stars, dawn …
Day 1 : Marrakech – Zagora
Breakfast in the riad and early departure to the mountains of the Atlas by tracing them along a curve road dotted with towns of traditional stone architecture to the Tichka Mountain Port of 2260m., Stop in Ouarzazate to know the Kasbah Taourirt, former fortress belonging to To the Glaoui family with hundreds of stays, part of them still inhabited. Continued in the direction of the Draa Valley, one of the most extensive palm trees in Morocco, Vergel that accompanies the river for more than 100km. Visit to the Ksar of Tamnouralt and other Ksour located on the banks of the Draa. Finally, visit the Ksar of Tamegroute, where the Koranic Library of Zaouiat was preserved. Arrival to Zagora in the afternoon. Dinner and accommodation in Kasbah – Hotel.
Zagora departure in the direction of Nkob, Tazzarine and Alnif, where you can visit one of its fossil stores, very abundant in the region. Then a track will be taken that gives access to the south of the Tafilalet Valley, passing through Ergs such as Ouzina and isolated villages such as Tafraout and Ramlia, located in Oasis in which Arid Piedra and the sand harass the palm trees and crops. From Touoz the road to Merzouga is taken to arrive on time with the dromedaries of Kasbah Azalay in the direction of the Khaimas camp in the dunes, the sunset will be enjoyed on the road. Dinner and accommodation in camp.
Day 3: Merzouga - Rissani - Todra Gorges - dades
I return to Kasbah Azalay after dawn. Breakfast and shower at the hotel. Departure in the direction of the Dades Valley. Along the way will visit the Khetaras of Jorf, El Palmeral and La Golganta del Todra in Tenerhir and finally the Valley of the Dades river will go up stopping at their points of interest, the "fingers of the monkey", the Kasbahs, the throat of the dades, The viewpoint of the curves … dinner and accommodation in traditional shelter or riad.
Day 4: Dades Gorges - Boutaghrar - Valle de las Rosas - Ouarzazate - Marrakech
Departure after breakfast in the direction of Marrakech, on the track that communicates the Valle del Dades with the Mgoun Valley, knowing traditional mountain villages and nomadic families that inhabit in Cuevas. Back to the N10 National Highway you can visit the Kasbah of Amerhidil in Skoura and cinematographic studies in which renowned movies such as Gladiator, La Mummy or Asterix and Cleopatra have been recorded. Then the Tichka Tizi N will go to get to Marrakech before sunset.