5-Day Tour To Explore The Imperial Cities Of Morocco From Casablanca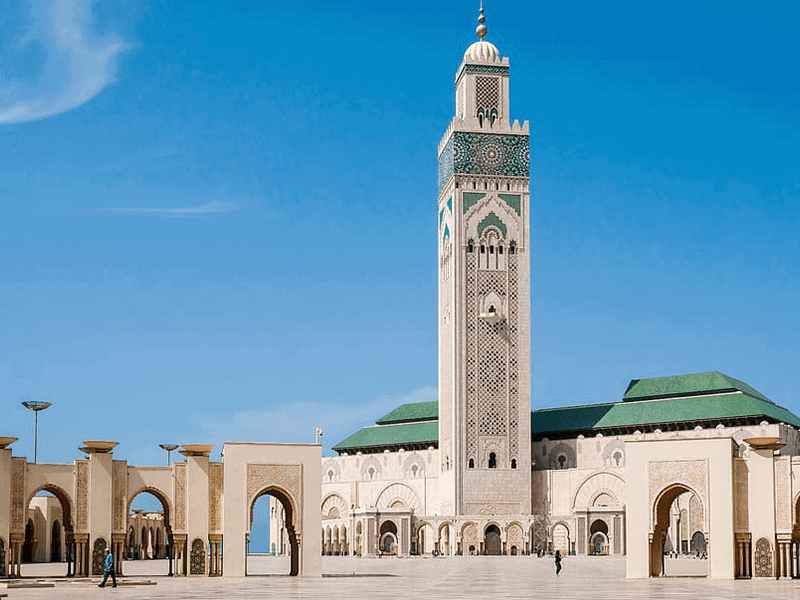 5-Day Tour To Explore The Imperial Cities Of Morocco From Casablanca
5 days tour to explore Morocco, we will travel through the old imperial cities where authenticity mixes with modern architecture, this 5 days cultural tour starts from Casablanca with its largest Hassan II mosque, to Meknes and its beautiful gates and great walls.
And then to Fez, the oldest imperial city and the cultural and spiritual capital of Morocco with its labyrinthine markets and the beautiful and colorful souks, finally to the capital of Morocco (Rabat) to explore its royal tombs, cultural sights and palaces. 
Day 1 : Airport to Casablanca
Our private tour begins with a transfer from the airport to your hotel in Casablanca, where you will be offered a complimentary meal. Today depends on the time of your arrival; given the time, we can explore some tourist features of Casablanca, such as the Hassan II mosque, the Moroccan Mall and a nearby beach area, and then we will take you to your hotel.
Day 2: Casablanca – Meknes – Fes
After breakfast we will leave for Rabat, which is the administrative capital of Morocco. Our morning will consist of a visit to the Royal Palace, the Oudaya Garden and Kasbah, the Mausoleum of Mohamed V and the Hassan Tower Mosque. We will then continue to Meknes and in the afternoon we will visit the Ismaili capital of Morocco, home to the widest wall in Morocco; the famous Bab el Mansour gate. We will also visit the Royal Stables and the Jewish Quarter. From there, we will continue to your hotel in Fez through the holy city of Moulay Driss, passing the ruins of Volubilis, the Roman city, where we can stop for photos and then continue to Fez and then take you to your accommodation.
All this day will be dedicated to visiting Fez, the spiritual capital. This will consist of visiting the following places: the Medieval Medina, the Nejjarine fountain, the Moulay Idriss mausoleum and the Karaouine Mosque (external visits only). You will be offered the option to have lunch in a traditional restaurant in the heart of the Medina and then after an afternoon visit to the souks and Fes Jdid (new Fes) we will return to your hotel.
After breakfast at your hotel, we will drive to explore the capital of Morocco (Rabat) and its cultural sights, ending the day at your hotel.
Day 5: Rabat – Casablanca
After breakfast we will take the road to Casablanca, you can have lunch in a local restaurant upon arrival. During the afternoon we will visit the Central Market, the Habous district, the Royal Palace, the Mohamed V Square, the residential area of Anfa and the Hassan II Mosque, and thus ends your tour.