Sahara Desert in 3 days from Fez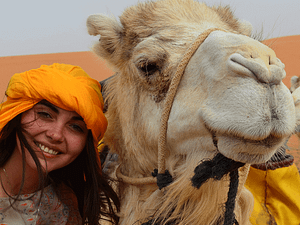 Sahara Desert in 3 days from Fez
3 days tour from Fes to Merzouga desert is the best way to visit the south east of Morocco and discover the top of Merzouga Sahara, the dunes of Erg Chebbi, the impressive sunset before arriving at the desert camp for a Magic night. Visit the nomadic villages and all the interesting sites the next day on this proper Fez desert tour.
Day 1 : Fes - Azrou (cedar forest) - Midelt - Erfoud - Merzouga Sahara
Our 3 days tour from Fez to Merzouga desert will start from your hotel or riad in Fez driving through the Middle Atlas and the cedar forest. On the way we pass through Ifrane, which is a famous ski resort, then Midelt, famous for minerals and apples. We continue through the Ziz valley to reach Erfoud, famous for fossil products, and then Rissani. Then once we reach Erg Chebbi desert where we will meet our desert guide. We prepare for a camel ride through the sand dunes of Merzouga and enjoy sleeping in the Sahara desert camp, where the first day of our 3 days desert tour from Fez ends.
Day 2: Merzouga: Erg Chebbi - Nomadic families - Merzouga
On the second day of the 3 days Tour from Fez to Merzouga desert, it is worth getting up early in the morning to be able to experience the beauty of a desert sunrise and the incredible silence of the Sahara, this is a wonderful time to experience the silence. and the changing colors as the sun rises on the dunes. After returning to the camp where breakfast and a hot shower will be waiting for you to freshen up for the day's adventure, you will return by camel to the starting point. We will pick you up and start your Merzouga desert tour by exploring all the interesting sites around Erg Chebbi dunes such as Merzouga seasonal lake called "Sirji Lake", Khamlia village for GNAWA music, mines for a variety of stones called "Mefes" for nomadic families that end with a visit to the RISSANI Market, the largest souk in the area. Arrival in the afternoon and free time for the rest of the day before spending the night in a local hotel/Riad in the desert of Merzouga.
Day 3 : Merzouga Desert - Ziz Valley - Midelt - Fez
Today you will say goodbye to the desert and you will surely take great memories with you, leaving for Fez through Erfoud, a small town known for carving marble stones and fossils, and enjoy the beautiful landscapes of the Ziz valley and palm groves until reaching Midelt. , another small town. known for its production of Apple. You will probably take a short break here in a restaurant for lunch or in a small town not far away called Zaida. Then we continue our way back to Fez towards the cedar forest of Azrou. Arrival in Fez around 6 p.m. We will drop you off at your accommodation where our 3 Day Fez to Merzouga Desert Tour ends.